Agency:
Ogilvy & Mather India
Client:
WWF India
Tiger Talk
Stories of courage, love and hope.
Brief
Design a book that highlights WWF-India's role in tiger conservation to help the organisation get more funds for the cause.
Solution
Tiger Talk. A unique book that celebrates the lives of people who work for the cause of tigers. Tiger Talk looks at tigers through the eyes of the people who truly love them: forest officers, forest guards, conservationists, mahouts, researchers and other unsung heroes who devote years and sometimes, lifetimes for the cause. It covers stories from tiger reserves across India. Its unique angle makes the book distinct and sets it apart from the crowd of tiger books in the market.
Result
The book was launched by Jairam Ramesh, India's Minister of Environment and Forests at a ceremony that featured many leading public figures. WWF-India and Indian Council for Cultural Relations (ICCR) is using the book to promote the cause by conducting Tiger Talk photography exhibition in places like New Delhi, London and Toronto.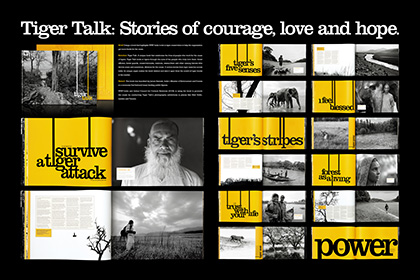 Credits
Creative Director
Piyush Pandey
Ajay Gahlaut
Nitin Srivastava
Jossy Raphael
Design Director
Nitin Srivastava
Designer
Nitin Srivastava
Copywriter
Jossy Raphael
Photographer
Manoj Kumar Jain
Illustrator
Ranga Reddy
Typographer
Nitin Srivastava
Printer
Rajesh Bhargava - Lustra Press
Account Servicing
Lavanya Anirudh
Client Contact Person
Madhur Das